Workshops in 2023 and 2024
2023
The Roman minuscule – Foundational and Beyond
March 11, 18, 25, 2023 > Online workshop for The Gentle Penman, Hong Kong
Dynamic Italic

May 6 and 20 and June 3 and 7, 2023 > Online workshop
Letter drawing – a Dutch approach
June 10, 11, 12, 2023 > Online workshop for the Chicago Calligraphy Collective
Capitalis Quadrata: The quirky capital
12, 26 August, 2023 > Online workshop
Whispers and Screams — Exploring the Ruling Pen
September 18–22, 2023 > In-person workshop in Schweigshofen, Germany for Schreibwerkstatt Klingspor Offenbach
https://www.schreibwerkstatt-klingspor.de/kurse/93-kurs-nr-456-herbstschule-23-mit-elmo-van-slingerland
Gothic Textura
October 25, November 8 and 22, 2023 > Online workshop

Let's get Italicized! Master the basics of Italic calligraphy
November 11 and 18, December 2 and 9, 2023 > Online workshop for the San Diego Society for Calligraphy
https://www.societyforcalligraphy.org/event-5337421
2024
The Roman minuscule – Foundational and Beyond
January 17 and 31, February 8 and 22, 2024 > Online workshop (> visit my shop for information and registration)
De Humanistische cursief / Italic
January 20 and 27, February 3, 10 and 17, March 2, 2024 > In-person workshop (Dutch/English spoken) at Atelier ZeauZeau, Gouda, The Netherlands (> visit my shop for information and registration)
De Romeinse minuskel — over Foundational en méér
March 15–16, 2024 > In-person workshop at Morris Coffee & Crafts in Ruddervoorde, Belgium

Écritures humanistiques contemporaines (Contemporary humanistic calligraphy)
April 18–21, 2024 > In-person workshop in Paris, France
https://www.barbedor.paris/stages-20232024/humanistiquescontemporaines
Roman Holiday | 2024 Calligraphy & Lettering Arts Conference
June 22–29, 2024 > In-person workshop at St. Ambrose University in Davenport, Iowa
https://web.cvent.com/event/69dd558f-c2f5-40a3-b1f4-9fe7c6599132/summary
Meer dan alleen krullen — een workshop over layout, krullen… en meer
September 13–14, 2024 > In-person workshop at Morris Coffee & Crafts in Ruddervoorde, Belgium
November 13–15, 2024 > In-person workshop 1 (topic yet to be determined)
November 16–18, 2024 > In-person workshop 2 (topic yet to be determined)
Both workshops will be held in Seengen, Switzerland for the Schweizerische Kalligraphische Gesellschaft


Please visit the shop for more information about (online) workshops.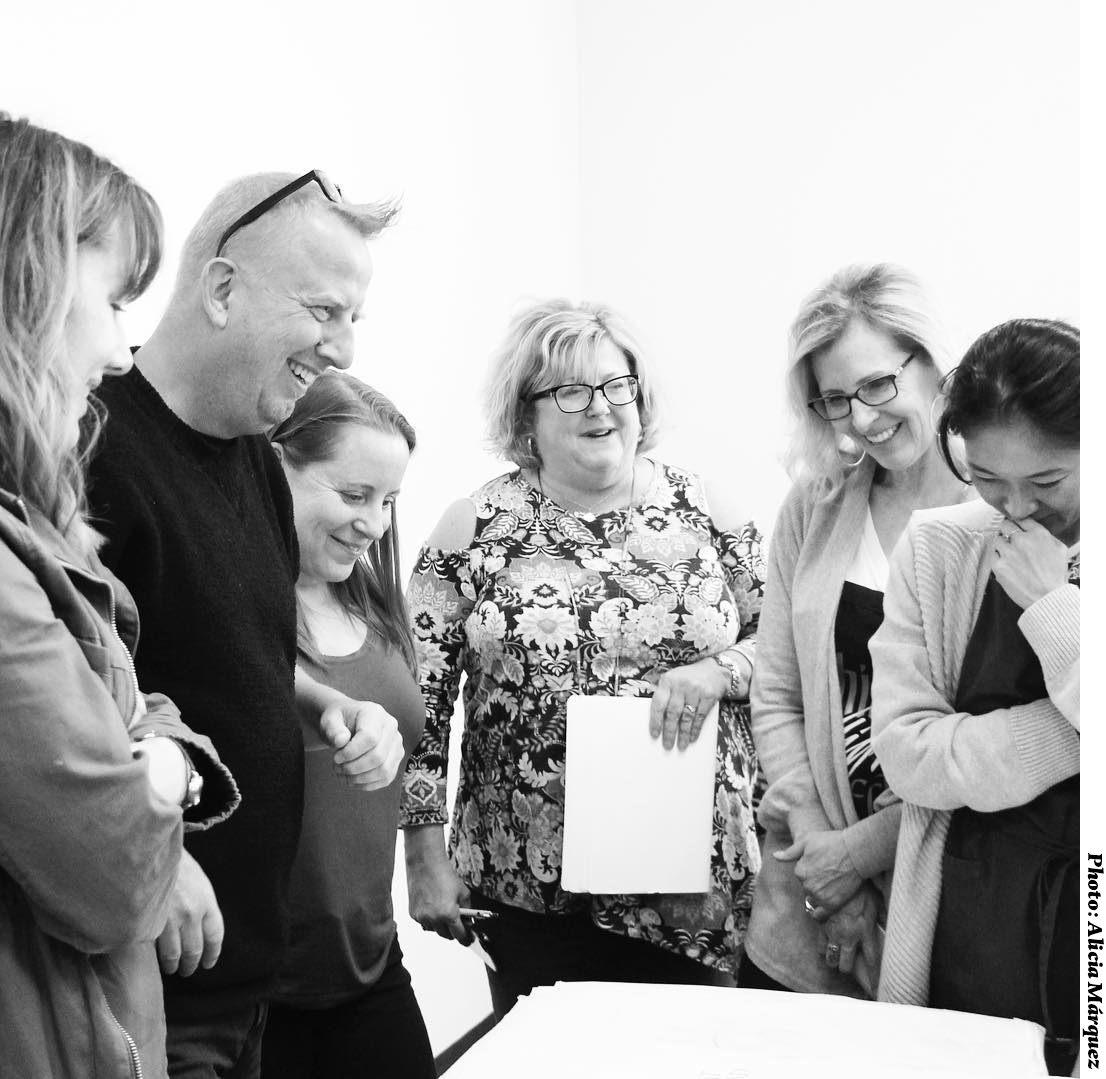 Next year, I am planning to hold workshops in my studio, located in Gouda. More information will be provided shortly.
I would like to further expand my topics in both online and offline workshops. If you have any suggestions, please do not hesitate to contact me.

Below, you can find the workshops I offer, which are available in both online and offline formats.
Some testimonials about recent online workshops



The Roman minuscule — Foundational and beyond


'Very well-built workshop, the learning was gradually moving from traditional Foundational hand to more elaborated and refined forms with serifs, from basic to advanced techniques of writing. The emphasis was given to the elegance of each stroke and the clarity of the letterforms, and the importance of the white space was highlighted in each session too. Elmo is a very generous teacher, wonderfully gentle and kind! And those bonus videos with homework critiques and extra demonstrations are super cool and helpful features of Elmo's teaching approach! This feedback inspired me to move forward after each lesson and practice more. All tech and host assistance was patiently fulfilled by Phan from the Society of Scribes with excellence.'
Zhanna Bardina
–––––––
'This online course moves from traditional foundational to a more contemporary style with a focus on strokes and shapes quality, rhythm, word balance and counter form importance. The handouts are structured into three well-documented parts. Elmo's tips for progress are numerous, clear and concrete. Above all, Elmo is a dedicated teacher during the course and after, providing his lessons demo sheets and each week, a new helpful video to respond to the homework received.
Phan's technical assistance ensures that the course and publications run smoothly. A wonderful team!'
Anne-Françoise Bouillon
–––––––
'I forgot I was distance learning—Elmo and Phan provide all the learning of an in-person workshop, but with the benefit of online classes. The handouts are thorough and helpful. The instructions and demos are clear and engaging. The annotated demo sheets are a treasure of knowledge. The homework review is a unique and invaluable addition—so many online teachers don't have a format to share student work, let alone respond to it. I was given specific things I could work on to improve, and words of encouragement for the things I could celebrate, I was also able to learn from other students' work. The 4-week format allows for practising, applying, and actual learning. Elmo's passion for the letters is contagious.'
Brecken Cook
————
'Thank you Elmo for the instructive course. The way how you taught the material during the online sessions was clear and very easy to follow: starting from the basics and going step-by-step to the finer details. All you did in a positive way: encouraging us with our results and challenge us to further improve. In this regard, I very much appreciated the video recordings in which you discussed the homework: this was a real asset to me.
Thank you Phan for the orderly coordination. You both form a good team!
Something to consider: the time between the online lessons and the deadline for the homework is rather short creating some pressure …'
Annick
—————
'If you want to know how he makes his beautiful letters, this is the workshop for you! Elmo guides you from Foundational to Transitional in clear steps, from basic shapes to advanced technical nib manipulation, all you need for years of calligraphy pleasure. Thanks, Elmo for the insights into writing and the underlying structures in the letters of the alphabet.'
Jeroen Koning
–––––––––––
'An extremely well-organized online course in roman minuscules. All aspects of the course are prepared with attention to detail, all clear and concise. The handouts provided are excellent material for further learning outcomes. The homework appraisals were invaluable and added to the building of skill development going forward. Over the four-week period, one could see the transformation from basic forms to some very inspiring and beautiful letters. Elmo is a great calligrapher and teacher and the classes were well executed. Thanks to Phan also for the commentary during the sessions – just perfect. I would highly recommend this course and I look forward to more classes coming up in the near future.'
Mary Sloan
————
'The sessions were very pleasant to follow, with clear feedback. The handouts are a good tool for further practice.'
Johan Provoost
–––––––––
'Thank you, Elmo. I really enjoyed this workshop. The division of the course into three parts was helpful for a smooth progression from traditional foundational to a more contemporary style. Your feedback was positive and helpful. Your calligraphy is inspirational. Very enjoyable.
Thank you Phan for your technical and communication support. Much appreciated.'
Yolande Lessard
–––––––
'Merci Elmo! You are a gentleman and your workshop is wonderful! I much appreciate your comments after the assignments, it's very helpful for our progression.
Thank you Phan for your support it's very kind of you!'
Denyse Francoeur


Whispers and Screams — Exploring the ruling pen


'Great class! By signing up for it I was expecting just to have fun with ruling pens, but it came out, that I've been taught how to be an artist, using ruling pens as the main tool. And I'm immensely thankful to Elmo for this!
Elmo gave us a lot of his massive knowledge, many masterful and graceful demonstrations, many clear ideas and clues about what to do, how to think as a calligrapher, how to decide, analyze, proceed, improve and refine our letters and even final pieces. This class was much about inevitable important and rare to be taught topics like designing, composition and deliberating aspects of art. And I did have a lot of fun with ruling pens indeed!
The very special feature of Elmo's teaching method – the video-recorded feedback for the submitted homework is a crucial thing! You realize, that you do need it to make your progress.
All students were a very special group of people — very inspiring, supportive and shared useful info. The atmosphere during live sessions was fun, warm and engaging. And all that was also possible thanks to Phan — our saviour in any situation, whether we've been in tech troubles or lost in translation. Phan's smart jokes and PRO- comments enlightened each class too.'
Zhanna Bardina
–––––––
'It was FUN! and so rich and interesting – hands up for the homework's corrections, which ended up in eye-opening feedback and hours of additional teaching and demonstrations. And, no, it is not the pen! It is Elmos' hand, eye and mind and experience that make the magic. I will bring home "When you write, you make decisions. See the possibilities" — that sounds so useful in life, not only in writing. Thank you, Elmo and Phan, you were perfectly complementary and equally generous. And thank you all dear fellow students, you were inspiring. See you all soon, hopefully, ready to fill in new pages.'
Claudia Mondino
–––––––
'Interesting format, and an interesting subject. I loved this course focusing exclusively on the Ruling Pen. I also really appreciated the extra videos where Elmo commented on all our homework week after week.'
Saskia Latendresse
–––––––
'I really enjoyed this class, especially because the ruling pen was not new to me but I never had any proper explanation on how to use this… The handouts were very useful and also nice that the videos are available until a few weeks after the class ended. I really appreciated the comments that Elmo gave on our homework. Not every teacher does this or puts as much time into it as Elmo does.'
Karel Lobijn
–––––––
'I really enjoyed the class with Elmo. He was very organized, the handouts are great and the class went smoothly. He was very skilled at demonstrating a variety of techniques with the ruling pen— the assignments encouraged experimentation and ways to achieve interesting marks from the ruling pen. His critiques were helpful with specific ideas on ways to improve both letters and composition. Watching him create gave me insight into his thought process when creating a piece—very helpful. Phan was fantastic and sensitive as he assisted— thank you, Phan!'
Barbara Yale-Read
–––––––
'I'm a repeat student—and a huge fan! The in-class demos and instructions are clear and helpful. The language "barrier" is actually a benefit as words are carefully chosen, or explained until the concept is clear. The handouts are informative and inspiring. The focus of each week is substantial but attainable, and a foundation to build on. The most valuable aspect of the class is the homework review—this is not happening in most zoom classes—but the learning that happens from "room for improvement" is why Elmo has become my favourite online teacher. He is kind and encouraging—but will give specific constructive suggestions.'
Phan is an excellent tech host! Slack is well organized and maintained, and the downloads and replays are easy to find.'
Brecken Cook
–––––––
'After this class, I feel I have a much better understanding of what the ruling pen can do and the multiple ways in which it can be used.
I particularly appreciated Elmo's homework reviews, with his kind and positive comments, and his suggestions for improvements.
Thank you Elmo and thank you Phan too, for your succinct summations – what a team!'
Jane Stanton
–––––––


With regard to the workshops, I have a non-refunds policy.